Natural Stone Pavers or Concrete Pavers – which is better?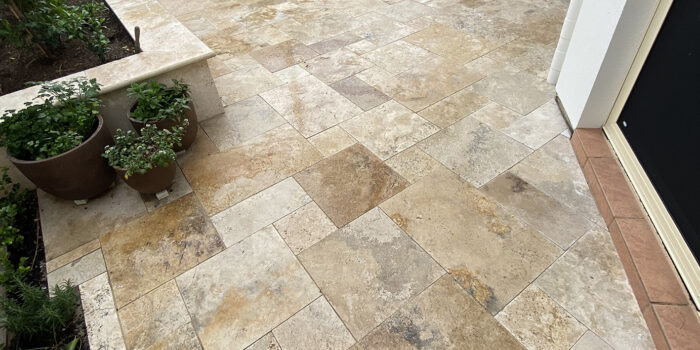 When it comes to choosing between Natural Stone pavers and concrete pavers for your outdoor space, it's important to consider both the aesthetic appeal and the practicality of each option. We compare the two options to help you make a more informed decision.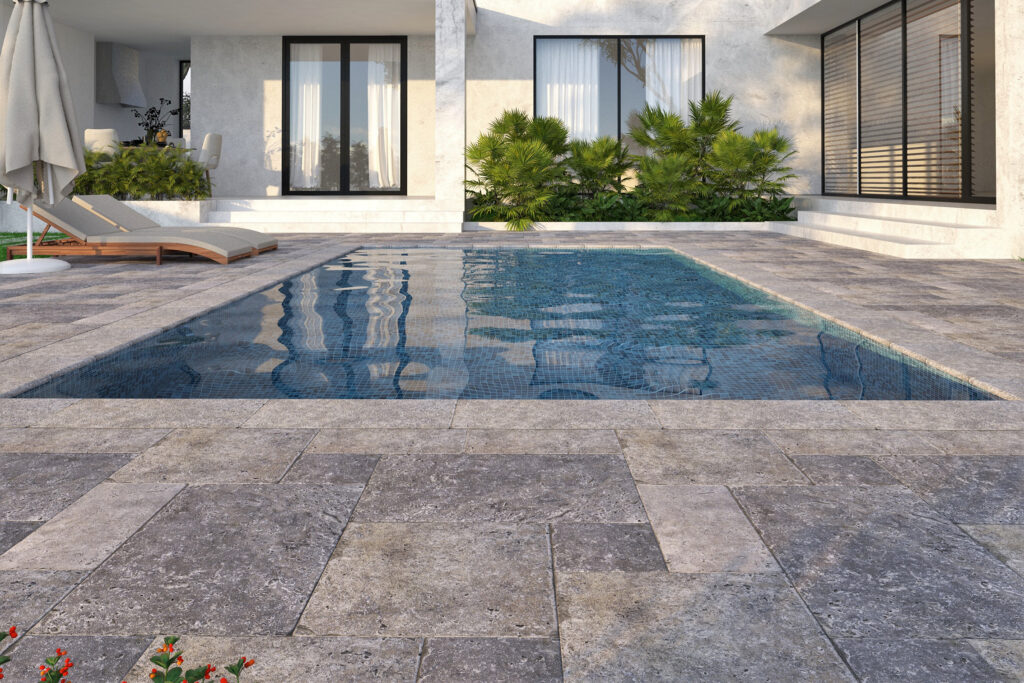 Aesthetic Appeal
Natural Stone pavers and tiles have a unique and natural look that can bring a luxurious, organic feel to any indoor or outdoor space. Each piece is unique, which means that your entertaining area or patio will have its own character. They are elegant, provide a timeless look and provide a quality finish.
Natural Stone pavers come in Sandstone, Bluestone, Granite, Limestone, Marble and Travertine.
Travertine is a popular choice as it not only looks impressive but it feels great underfoot. It also doesn't retain heat so it's perfect for around pools and areas in full sun as it feels cool under foot. Concrete pavers come in a wide range of shapes, sizes and colours, which makes them a great option if you're looking to create patterns or mix and match different sizes. They also have more consistent size and are versatile.
Durability
Both Natural Stone and concrete pavers are very durable and long-lasting.
Natural Stone pavers are generally seen as being more durable, easier to maintain and more appealing. They also last a lot longer.
Concrete pavers are very strong and are made to withstand weather conditions. However, they can fade slightly over time.
Maintenance
Both Natural Stone pavers and concrete pavers are relatively low-maintenance and can be cleaned by various methods dependent upon the age of the paver and the stains you are trying to remove. We recommend any spills should be cleaned up immediately to reduce staining. You can read more about Paver Maintenance and Remedies here.
You can also seal Natural Stone and concrete pavers for added durability and to keep them looking great.
For Natural Stone pavers, we recommend using a penetrative sealer that is a clear sealer for use on unpolished natural stone surfaces for protecting from moisture and helps reduce staining and salt attack.
For concrete pavers, we recommend using either a natural sealer that penetrates the concrete and doesn't change its appearance or a surface sealer that both penetrates and enhances the colour of the paver.
AT APC, we sell a range of sealers which are perfect for any job. View our range of sealers here –
Cost
Natural stone is slightly more expensive than concrete pavers but the price can vary greatly depending on the type of Natural stone you choose. However, with Natural Stone you may get a more superior product.
Concrete pavers can be more affordable and are also available in a wide range of prices. They are also very versatile and are a common choice due to their greater selection of sizes, colours and finishes.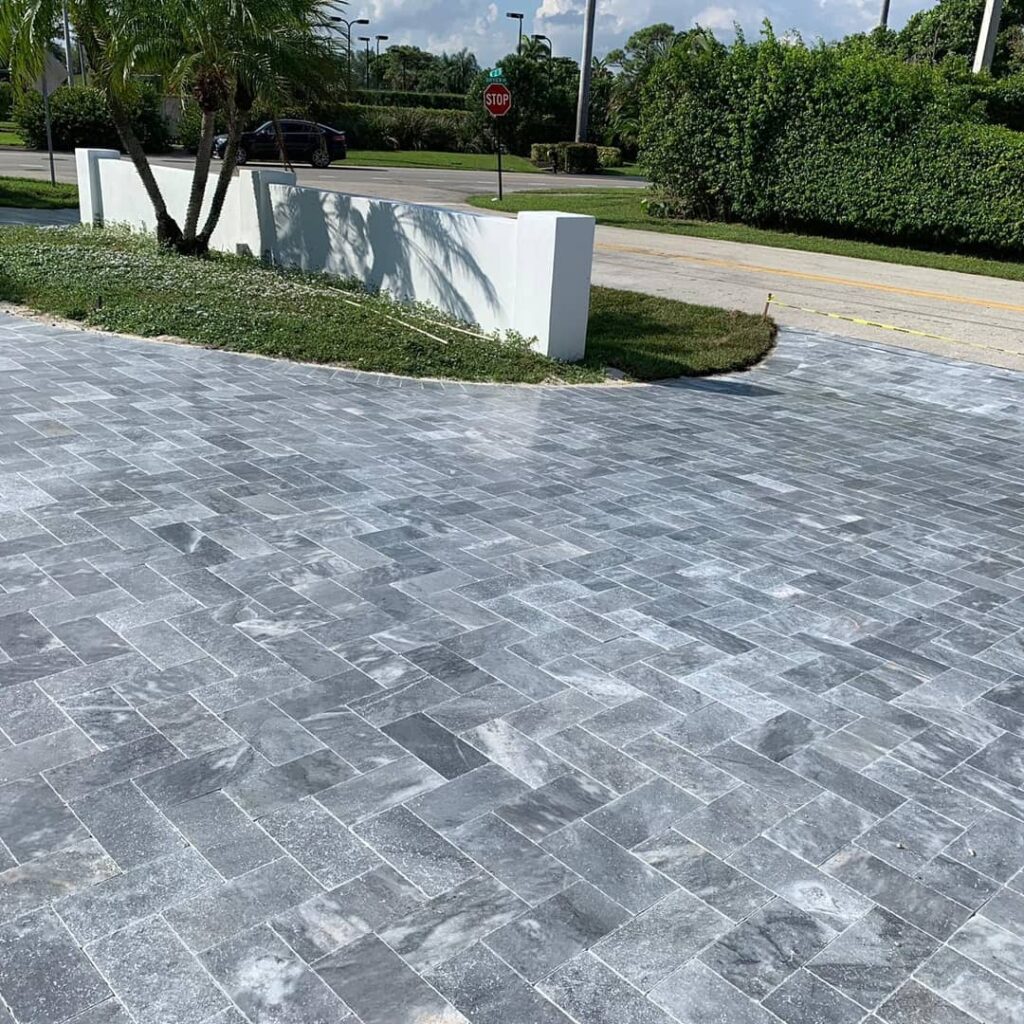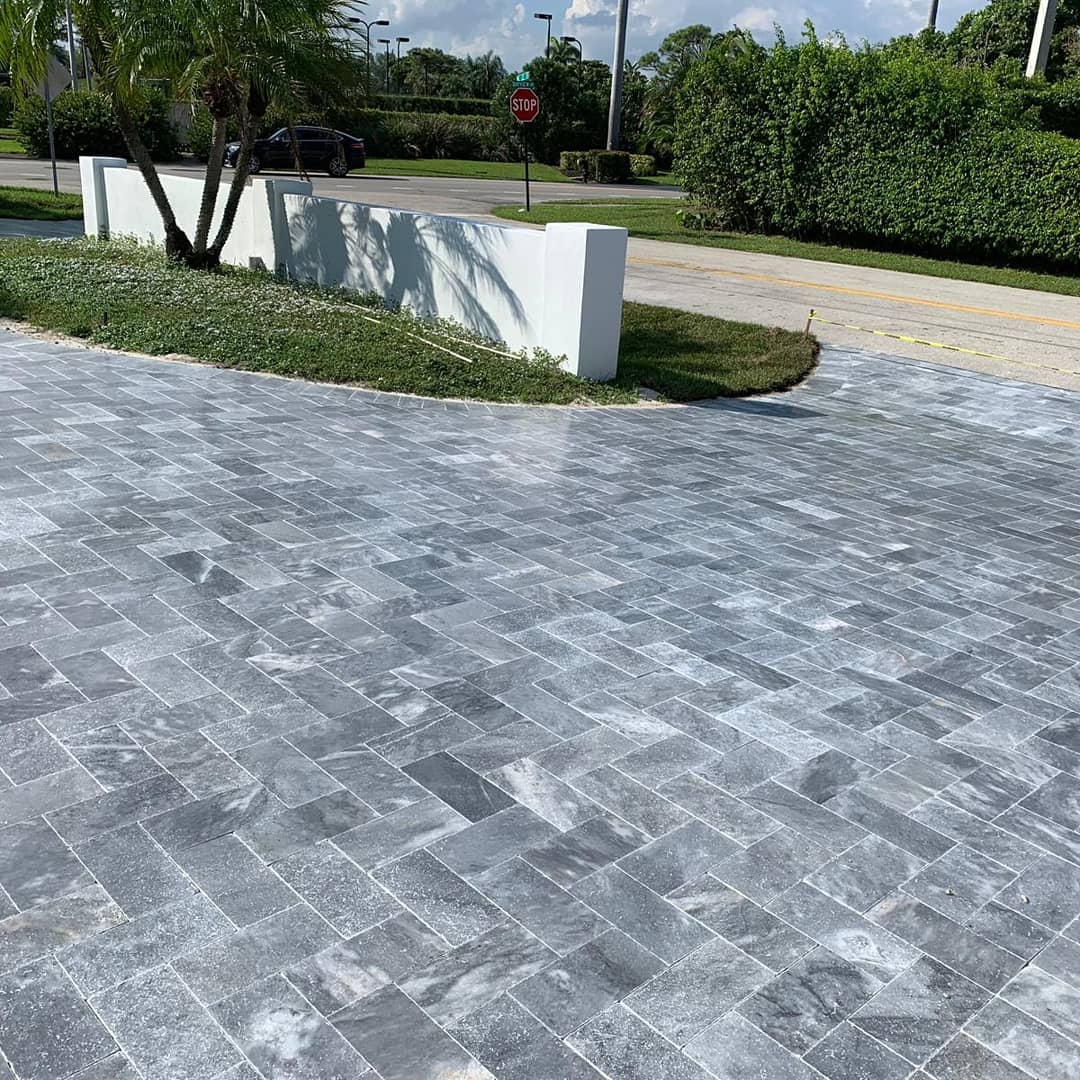 Features and Benefits
Natural Stone
Durable and hardwearing
Slip-resistant
Travertine is cool under foot
Matching tiles available for matching indoor and outdoor areas
Luxurious and timeless look that will elevate any space
More superior product
Some Natural stone are stain and scratch resistant.
French pattern available
Suitable for indoor and outdoor areas, pools, entertaining areas, patios and alfresco, garden paths and walkways
Larger range of pool copings such as bullnose, drop face
Range includes Bluestone, Sandstone, Marble, Granite, Limestone and Travertine
Concrete Pavers
Affordable
Larger range of colours, sizes and finishes
Brick concrete pavers are the better choice for driveways (*50mm)
Can be lighter and easier to install
Durable and hardwearing
Textured slip-resistant options
The choice between Natural Stone and concrete pavers depends on your personal preferences, the look you want to achieve, features and benefits you want from your product and your budget.
If you're looking for a natural and luxurious look, Natural stone might be the right choice for you.
But if you want a modern, low-maintenance solution, concrete pavers might be the better option.
Consider all the factors before making your decision and speak with our APC expert staff for professional guidance on what is the right choice for your needs.
Request a Quote today!
Send us a product enquiry or request a quote online
which is better concrete pavers or stone pavers?
Natural stone pavers have a lot more features and benefits to concrete pavers. Stone pavers give a more luxurious look and feel and are great around pools and areas in full sun as they are cool under foot because they don't retain heat. They are considered more appealing, look better, more durable and easier to maintain than concrete pavers.
Concrete pavers may be more affordable and come in a much larger range of sizes and colours. Concrete 50mm brick pavers are the best choice when it comes to driveways.
are stone pavers cheaper than concrete?
Stone pavers can be a similar price when compared to poured concrete. Natural stone pavers have many features and benefits to them. Poured concrete can get unsightly cracks with any soil movements and is expensive to fix.
Natural stone pavers may cost slightly more than concrete pavers but you get a more premium product with natural stone.