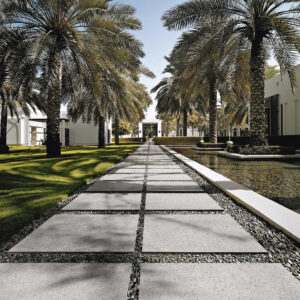 Stoneware™ Terrazzo
Get Your Ultimate DIY Paving Guide!
Looking to give your driveway or patio a fresh, new look? Get your hands on our FREE DIY Paving Guide now! Learn the step-by-step process of paving, including expert advice and money-saving tips that will make your project a breeze. Don't just dream about your ideal outdoor space – create it!
"*" indicates required fields
FAQ about Terrazzo Pavers
A Terrazzo paver is a paver made from cement and aggregate like stone chips such as granite and marble and other coloured stones, to create a surface to imitate the look of stone. It is a popular style due to its visual appeal. Concrete pavers contain more cement whereas Terrazzo pavers contain more aggregate.
At APC our Terrazzo pavers come in 20mm or 40mm thickness in a range of styles and colours.
Terrazzo pavers are a great choice for your outdoor space. They are durable so perfect for entertaining areas or patios and with their aggregate look, they look appealing.
Terrazzo pavers are still popular. They provide an appealing finish and are made to last. Terrazzo pavers are made to be a more modern style and continue to be a favoured choice for outdoor areas.
APC has the best range of Terrazzo Pavers in Port Lincoln
While terrazzo pavers have been around for hundreds of years, these quality standout pavers have made a comeback. They have been a popular choice for modern homes as they help create interesting contemporary and industrial styled spaces. Terrazzo look tiles are the favoured choice for indoor flooring, outdoor pavers and wall tiles for bathrooms and kitchens.
Terrazzo is truly unique as each style has a different size aggregate in just about any colour. This makes it a great way to introduce colour and texture subtly for your flooring. These tiles and pavers are highly durable and hardwearing and are the ideal choice for outdoor entertaining areas, pool areas, patios and alfresco and more. Browse our range of pavers online, or visit your local APC display store today.

Australian Paving Centre Port Lincoln services the Port Lincoln region including Port Neill, Tumby Bay, Boston, Coffin Bay & Venus Bay